Referee Information
---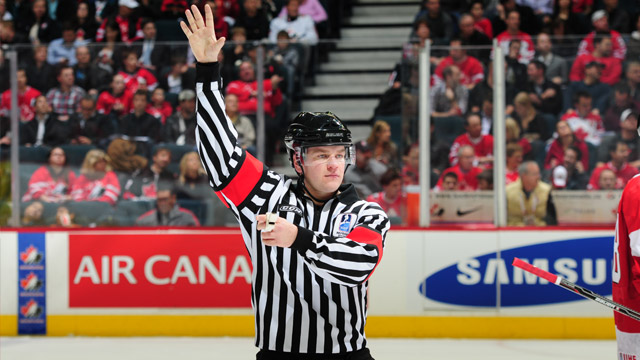 The following is a resource page for TriPort Officials/Referees and will be updated periodically as new information becomes available:
An Annual Course for Referees is held in the TriPort Region in October. Information about the course will be posted on the BC Hockey Website. Prospective Referees need to do an online training session before attending the in-person classroom session. Prior to completing the online session, adults must undergo a criminal record check (CRC). The CRC can be conducted online and using the access codes as per the notifications immediately below. Referees are the only TriPort volunteers that are to use the CRC access code below. All other volunteers needing a CRC completed need to use a different access code which is referenced in the "Volunteer Screening" menu of this website.
Officiating - Levels
Level I
Simply register for a Level I clinic to get started.
To prepare a young or new official to officiate minor hockey
An individual is certified at Level I with attendance and completion of a Level I clinic - eight (8) hours of instruction, minimum
Completion of a national exam must be marked and returned prior to the completion of the clinic
Minimum age to participate in the Level I clinic is 12 years old on or before December 31 of the current season
Level II
To further enhance the training and skills of the minor hockey official.
Must be a minimum of 16 years old as of December 31 of the current season
Must attend all sessions of the Level II clinic, a minimum eight (8) hours in duration, and obtain a minimum of 70% on a written national exam to be marked and returned prior to the completion of the clinic
Must pass a practical, on-ice evaluation, performed by a qualified Branch Hockey Canada Officiating Program supervisor.
Level III
To prepare officials capable of refereeing Minor Hockey playoffs, minor hockey Regional Playoffs and Female National Championship or being linesmen in Junior B, Senior, Bantam or Midget Regional Championships
Must be fully certified at Level II and referee at least one year at that level in order to register for Level III
Must attend and participate in all sessions at a Level III clinic, a minimum of eight hours of instruction, and must obtain a minimum of 80% on a written national examination, to be marked and returned prior to the completion of the clinic
Must pass a practical, on-ice evaluation, performed by a qualified Branch Hockey Canada Officiating Program supervisor
Must be judged capable of refereeing in Minor Hockey Playoffs